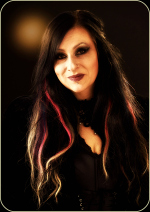 A Personal Note from Haunted Hamilton Founder, "Spooky Steph" Stephanie Dumbreck...
Thanks for visiting the OFFICIAL website for HAUNTED HAMILTON™, Founded in 1999 by Stephanie "Spooky Steph" Dumbreck, Award-Winning Columnist, TV & Radio Show Host, Event Planner, Haunted Bus Trip Host, Avid Historian, Tour Guide, Paranormal Investigator and Spooky Event Hostess!
For almost two decades, Haunted Hamilton has been proud to host new and exciting, historically thrilling tours, events, paranormal investigations and more, with new events being announced every month! We SELL OUT fast for most of our events so if you are interested in joining Spooky Steph and her crew of Spooky Misfits, don't hesitate... get your tickets to ensure your spots! (More)

Haunted Hamilton

NEWS!


Staying Spooky with Canada's Spooky Queen, Spooky Steph!


Haunted Hamilton is so excited to announce so many NEW & EXCITING Spooky Events... some brand new, while some are very popular returning locations that we haven't hosted in ages!

Keep checking back here on our website as well as our Official Facebook Page at www.Facebook.com/HauntedHamilton Avoid grave disappointment and get your tickets today! Stay Tuned & #StaySpooky Everyone! ~ Spooky Steph xo
Saturday, February 9, 2019 (

Extreme

SOLD OUT!)
GIBSON SCHOOL Paranormal Investigation
Paranormal Investigation & Tour: 8 PM - 11 PM
EXTREME

Investigation Experience:

8 PM - 12 Midnight


Join Haunted Hamilton

for an

INTERACTIVE

Paranormal Investigation & Haunted Ghost Tour at

Gibson School!


Haunted Hamilton RETURNS and has a VERY RARE opportunity to FULLY investigate historic Gibson School on Barton Street in Hamilton, Ontario, Canada. The transformation of Gibson School is CONSTANTLY changing. You will be witnessing history be made as you ROAM and EXPLORE through this historic old school that has a srong connection to Hamilton's past! Get Tickets!

Saturday, January 26, 2019

70% SOLD OUT!


Rolling Hills Asylum Haunted Bus Trip

3 PM

-

3 AM


As seen on "American Horror Story: Asylum"




An Overnight Paranormal Investigation Experience!


Haunted Hamilton presents a Haunted Bus Trip to one of the United States MOST HAUNTED locations, Rolling Hills Asylum.

Located in East Bethany, NY, just outside of Buffalo, this enormous 53,000+ sq. ft. brick building has been a popular destination for ghost hunters and has been featured on many spooky TV Shows including Ghost Asylum & Ghost Adventures!

As seen on Season 2 of American Horror Story: Asylum! Get Tickets Now!
Saturday, February 23, 2019

|

50% SOLD OUT!
HAUNTED CITY BUS TOUR

with

Spooky Steph


Experience Hamilton's

MOST HAUNTED

Locations ALL Aboard a

LUXURY

Chartered Bus! 7

-

10 PM


From the Spirits at DUNDURN CASTLE to Hamilton's oldest Ghost, the infamous "Dark Lady" at the CUSTOMS HOUSE. Insane Asylum Ghosts at CENTURY MANOR and the LAST surviving building from the old Hamilton Psychiatric Hospital. "Gremlins in the Bell Tower" at ST. PAUL'S and the Eerie Apparition of Isaac Buchanan at WHITEHERN. From famed "Torso" Murderess EVELYN DICK to "King of the Bootleggers", ROCCO PERRI, join your host, Haunted Hamilton Founder, Spooky Steph, as she takes you on a chartered journey around Hamilton surrounded by the festive twinkling lights of the City! Featuring exterior visits at some of Hamilton's MOST HAUNTED places!

Get Tickets!
.............................................................................................................................................

Spooky Steph from Haunted Hamilton on City TV Breakast Television | July 13, 2016 CityTV

Saturday, November 17, 2018 SOLD OUT!
Haunted Evening

at DUNDURN CASTLE


A Historical Ghost Tour Event

&

Victorian Death and Mourning Traditions with Haunted Hamilton
Haunted Hamilton​ presents "A Haunted Evening at Dundurn Castle​" | A Historically Haunted Ghost Tour Featuring Victorian Death & Mourning Traditions in the former grand home of Sir Allan MacNab. Tickets!
Saturday,

November

10 - Sunday, November 11

, 2018




Hill View Manor Haunted Bus Trip

SOLD OUT!
As seen on Travel Channel's "

Ghost Adventures

"




An Overnight Paranormal Investigation Experience!


Want to be locked down overnight in one of Pennsylvania's MOST HAUNTED hospitals? Hill View Manor, as seen on "Ghost Adventures", "Ghost Hunter's", & "Ghost Lab", is one of the most haunted hospitals in the United States! Join the Haunted Hamilton Spooky Misfit Crew as they explore this long forgotten, but very active location! Tickets will go FAST! They ALWAYS do! Tickets!
Saturday, November 3, 2018 SOLD OUT!
Haunted Evening

at DUNDURN CASTLE


A Historical Ghost Tour Event

&

Victorian Death and Mourning Traditions with Haunted Hamilton
Haunted Hamilton​ presents "A Haunted Evening at Dundurn Castle​" | A Historically Haunted Ghost Tour Featuring Victorian Death & Mourning Traditions in the former grand home of Sir Allan MacNab. Tickets!

S

unday

, October 28, 2018

|

7

-

9 PM

SOLD OUT!


Haunted Cruise

|

Ghostly Legends, Folklore & Superstitions of the Sea with Spooky Steph

|

Hamilton Harbour Queen
The Great Lakes with its dramatic and mysterious past, span thousands of miles and sometimes cross through the veil into the spirit world, creating a rich legacy of myth, folklore, legend and tales of the unexplained. Journey at twilight through time, across the waters of Hamilton Harbour with Haunted Hamilton as we celebrate our 5th Year running our Haunted Cruises! Get Tickets!
Saturday, October 27, 2018 SOLD OUT!


CANNON Knitting Mills

|

8:30 PM - 11 PM


HAUNTED Tour & Paranormal Investigation
Join Haunted Hamilton for an Paranormal Investigation at the formerly abandoned Cannon Knitting Mills at 134 Mary Street in Downtown Hamilton. You will be witnessing history be made as you EXPERIENCE a HAUNTED TOUR & PARANORMAL INVESTIGATION through this historic old mill that has a srong connection to Hamilton's past! Get Tickets!

Saturday,

October 27

, 2018

SOLD OUT!
Haunted Evening

at DUNDURN CASTLE


A Historical Ghost Tour Event

&

Victorian Death and Mourning Traditions with Haunted Hamilton
Haunted Hamilton​ presents "A Haunted Evening at Dundurn Castle​" | A Historically Haunted Ghost Tour Featuring Victorian Death & Mourning Traditions in the former grand home of Sir Allan MacNab | With 2 TOUR times at 6 PM & 8 PM! Tickets!

S

unday

, October 21, 2018

|

8

-

10 PM

SOLD OUT!


Haunted Cruise

|

Ghostly Legends, Folklore & Superstitions of the Sea with Spooky Steph

|

Hamilton Harbour Queen Featuring

LIVE MUSIC

with SnowHeel Slim!
The Great Lakes with its dramatic and mysterious past, span thousands of miles and sometimes cross through the veil into the spirit world, creating a rich legacy of myth, folklore, legend and tales of the unexplained. Journey at twilight through time, across the waters of Hamilton Harbour with Haunted Hamilton as we celebrate our 5th Year running our Haunted Cruises! Get Tickets!

Saturday,

October 20

, 2018

SOLD OUT!
Haunted Evening

at DUNDURN CASTLE


A Historical Ghost Tour Event

&

Victorian Death and Mourning Traditions with Haunted Hamilton
Haunted Hamilton​ presents "A Haunted Evening at Dundurn Castle​" | A Historically Haunted Ghost Tour Featuring Victorian Death & Mourning Traditions in the former grand home of Sir Allan MacNab | With 2 TOUR times at 6 PM & 8 PM! Tickets!

Friday, October 19,

201

8

SOLD OUT!
Haunted Evening at PALETTA MANSION | 8 - 11 PM
Spend the evening EXPLORING the MANSION and grounds of one of Burlington, Ontario's MOST HAUNTED Places!


Join Haunted Hamilton Founder, Stephanie "Spooky Steph" Dumbreck and the Spooky Misfit Crew for a historic evening at one of Burlington, Ontario's most haunted mansions. Located on the waterfront property originally gifted to Laura Secord, the mansion now claims home to two of it's former residents, Edythe & Dorothy. Care to join us? Tickets will go fast!

Get Tickets!

Saturday,

October 13, 2018

11AM

-

3AM SOLD OUT!


KINGSTON PENITENTIARY Haunted Bus Trip


Haunted Hamilton presents a Haunted Bus Trip to Canada's OLDEST Maximum Security Prison, the Kingston Penitentiary, located in historic Kingston, Ontario! Also includes a Visit to the Canadian Penitentiary Museum, Free Time to explore Downtown Kingston and an evening HAUNTED WALK of Kingston too! Get Tickets!

Saturday,

October 13

, 2018

SOLD OUT!
Haunted Evening

at DUNDURN CASTLE


A Historical Ghost Tour Event

&

Victorian Death and Mourning Traditions with Haunted Hamilton
Haunted Hamilton​ presents "A Haunted Evening at Dundurn Castle​" | A Historically Haunted Ghost Tour Featuring Victorian Death & Mourning Traditions in the former grand home of Sir Allan MacNab | With 2 TOUR times at 6 PM & 8 PM! Tickets!
GHOST TOUR

of

DOWNTOWN HAMILTON
The ORIGINAL

Hamilton Ghost Walk Since 1999!




Hosted by Local Historian & Tour Guide, Spooky Steph


Friday, October 12, 2018

|

8

-

10

PM

SOLD OUT!
History, Ghosts & Haunted Places, Mobsters, Murderers & Femme-Fatales... HAMILTON has it ALL!! Join your host Stephanie Dumbreck, Founder & Owner of Haunted Hamilton since 1999, for a Ghostly Haunted Tour through the historic & haunted streets of Downtown Hamilton like you've NEVER seen before... through the eyes of the one-and-only, "Spooky Steph!" From the spectre of the "Lady in White" at The Royal Connaught Hotel to the eerie apparition of theatre magnate Ambrose Small at the Tivoli Theatre. Hear about the hauntings at the Right House by the mischievous spirit of Thomas C. Watkins and the legendary tale of the "gremlins in the bell towers" at St. Paul's Church. From Evelyn Dick to Rocco Perri, secret underground tunnels below the City to Jack the Ripper in Hamilton, your host Spooky Steph will take you through the historic streets of Dowtown Hamilton along James Street North and into the twinkling lights of Gore Park! Get Tickets!

Saturday,

October 6

, 2018

SOLD OUT!
Haunted Evening

at DUNDURN CASTLE


A Historical Ghost Tour Event

&

Victorian Death and Mourning Traditions with Haunted Hamilton
Haunted Hamilton​ presents "A Haunted Evening at Dundurn Castle​" | A Historically Haunted Ghost Tour Featuring Victorian Death & Mourning Traditions in the former grand home of Sir Allan MacNab | With 2 TOUR times at 6 PM & 8 PM! Tickets!

Saturday,

September 22, 2018

3 PM

-

3 AM

SOLD OUT!




Rolling Hills Asylum Haunted Bus Trip

//




As seen on "American Horror Story: Asylum"




An Overnight Paranormal Investigation Experience!


Haunted Hamilton presents a Haunted Bus Trip to one of the United States MOST HAUNTED locations, Rolling Hills Asylum.

Located in East Bethany, NY, just outside of Buffalo, this enormous 53,000+ sq. ft. brick building has been a popular destination for ghost hunters and has been featured on many spooky TV Shows including Ghost Asylum & Ghost Adventures!

As seen on Season 2 of American Horror Story: Asylum! Get Tickets Now!

Saturday,

September 22

, 2018

SOLD OUT!
Haunted Evening

at DUNDURN CASTLE


A Historical Ghost Tour Event

&

Victorian Death and Mourning Traditions with Haunted Hamilton
Haunted Hamilton​ presents "A Haunted Evening at Dundurn Castle​" | A Historically Haunted Ghost Tour Featuring Victorian Death & Mourning Traditions in the former grand home of Sir Allan MacNab | With 2 TOUR times to pick! Spots will SELL OUT VERY FAST! Tickets!
GHOST TOUR

of

DOWNTOWN HAMILTON
The ORIGINAL

Hamilton Ghost Walk Since 1999!




Hosted by Local Historian & Tour Guide, Spooky Steph


Friday, September 21, 2018

|

8

-

10

PM

SOLD OUT!
History, Ghosts & Haunted Places, Mobsters, Murderers & Femme-Fatales... HAMILTON has it ALL!! Join your host Stephanie Dumbreck, Founder & Owner of Haunted Hamilton since 1999, for a Ghostly Haunted Tour through the historic & haunted streets of Downtown Hamilton like you've NEVER seen before... through the eyes of the one-and-only, "Spooky Steph!" From the spectre of the "Lady in White" at The Royal Connaught Hotel to the eerie apparition of theatre magnate Ambrose Small at the Tivoli Theatre. Hear about the hauntings at the Right House by the mischievous spirit of Thomas C. Watkins and the legendary tale of the "gremlins in the bell towers" at St. Paul's Church. From Evelyn Dick to Rocco Perri, secret underground tunnels below the City to Jack the Ripper in Hamilton, your host Spooky Steph will take you through the historic streets of Dowtown Hamilton along James Street North and into the twinkling lights of Gore Park! Get Tickets!

Saturday,

September 8

, 2018

SOLD OUT!




Rolling Hills Asylum Haunted Bus Trip

3 AM

-

3 PM


As seen on "American Horror Story: Asylum"




An Overnight Paranormal Investigation Experience!


Haunted Hamilton presents a Haunted Bus Trip to one of the United States MOST HAUNTED locations, Rolling Hills Asylum.

Located in East Bethany, NY, just outside of Buffalo, this enormous 53,000+ sq. ft. brick building has been a popular destination for ghost hunters and has been featured on many spooky TV Shows including Ghost Asylum & Ghost Adventures!

As seen on Season 2 of American Horror Story: Asylum! Get Tickets Now!

Saturday,

September 8

, 2018

SOLD OUT!
Haunted Evening

at DUNDURN CASTLE


A Historical Ghost Tour Event

&

Victorian Death and Mourning Traditions with Haunted Hamilton
Haunted Hamilton​ presents "A Haunted Evening at Dundurn Castle​" | A Historically Haunted Ghost Tour Featuring Victorian Death & Mourning Traditions in the former grand home of Sir Allan MacNab | With 2 TOUR times to pick! Spots will SELL OUT VERY FAST! Tickets!
GHOST TOUR

of

DOWNTOWN HAMILTON
The ORIGINAL

Hamilton Ghost Walk Since 1999!




Hosted by Local Historian & Tour Guide, Spooky Steph


Friday, August 24, 2018

|

8:00

-

10:00

PM

SOLD OUT!
History, Ghosts & Haunted Places, Mobsters, Murderers & Femme-Fatales... HAMILTON has it ALL!! Join your host Stephanie Dumbreck, Founder & Owner of Haunted Hamilton since 1999, for a Ghostly Haunted Tour through the historic & haunted streets of Downtown Hamilton like you've NEVER seen before... through the eyes of the one-and-only, "Spooky Steph!" From the spectre of the "Lady in White" at The Royal Connaught Hotel to the eerie apparition of theatre magnate Ambrose Small at the Tivoli Theatre. Hear about the hauntings at the Right House by the mischievous spirit of Thomas C. Watkins and the legendary tale of the "gremlins in the bell towers" at St. Paul's Church. From Evelyn Dick to Rocco Perri, secret underground tunnels below the City to Jack the Ripper in Hamilton, your host Spooky Steph will take you through the historic streets of Dowtown Hamilton along James Street North and into the twinkling lights of Gore Park! Get Tickets!
Friday, July 27, 2018

|

8:30 - 10:30 PM SOLD OUT!
FULL MOON

GHOST TOUR

of

DOWNTOWN HAMILTON




Hosted by Historian & Tour Guide, Spooky Steph


History, Ghosts & Haunted Places, Mobsters, Murderers & Femme-Fatales... HAMILTON has it ALL!! Join your host Stephanie Dumbreck, Founder & Owner of Haunted Hamilton since 1999, for a Ghostly Haunted Tour through the historic & haunted streets of Downtown Hamilton like you've NEVER seen before... through the eyes of the one-and-only, "Spooky Steph!" From the spectre of the "Lady in White" at The Royal Connaught Hotel to the eerie apparition of theatre magnate Ambrose Small at the Tivoli Theatre. Hear about the hauntings at the Right House by the mischievous spirit of Thomas C. Watkins and the legendary tale of the "gremlins in the bell towers" at St. Paul's Church. From Evelyn Dick to Rocco Perri, secret underground tunnels below the City to Jack the Ripper in Hamilton, your host Spooky Steph will take you through the historic streets of Dowtown Hamilton along James Street North and into the twinkling lights of Gore Park! Get Tickets!
Saturday, June 30, 2018

|

8

-

11 PM