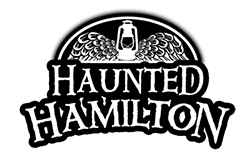 Haunted-Hamilton presents
A HAUNTED
CAMPFIRE EVENING
at Fifty Point Conservation Area
Ghost Stories, Creepy Tales & Urban Legends
Sit at the "point" with a complete view of Lake Ontario spanning as far as the eye can see. Hear the crackling of the blazing fire and watch the glistening stars twinkle... Listen to the waves crash in against the rocky shores and listen to some of the creepiest ghost stories you'll ever hear! Featuring Dramatic Storytelling by Daniel Wooster (a.k.a. Rook Holbrooke). Your Haunted Hamilton host, Stephanie Lechniak will also share some personal stories while encouraging others to share their own personal experiences.
Price includes marshmallows and s'mores supplies, but you bring your own skewers, lawn chairs, blankets and drinks (no alcohol allowed).
This event is FAMILY FRIENDLY!
Saturday, September 20, 2014
6:30 - 9:30 pm
Tickets:
$15 per person
Fifty Point Conservation Area
1479 Baseline Road, Winona, ON
(Campfire at the Point)
Click HERE for a Google Map

Follow the Ghosts...
Follow the GHOSTS once you exit at Fifty Road. They will lead you to the Park Entrance and to the Point where the campfire is. Please let the attendant at the front gate know you are there for the campfire event.
WHAT TO BRING:
Lawn Chairs


You can bring your own Hot Dogs to roast, other little snacks, drinks (no alcohol), and other treats.


Warm Blankets (if is pretty chilly, bring blankets to snuggle up under while hearing the creepy ghost stories!)


Warm sweaters and coats


Flashlights (for bathroom runs!)


Camera to take pics of the sunset and fire!

Skewers for roasting the marshmallows (can be found at Dollar Store).


Your ghost stories if you want to share them around the fire!


A

small bag

for your garbage. Please help us keep the site clean :)


The event is Dog Friendly and the Haunted Hamilton Mascot, Shia LaWoof will be there too! Please only friendly, quiet dogs.
HOW DO I GET TICKETS?
Tickets are on a first-come, first-served basis.
You can pay for your tickets the night of in cash, but you take the chance that we might sell out before the evening of the event. The only way to guarantee your spots is to purchase your tickets in advance below!
STEP 1:

RESERVE MY SPOTS!
Fill out the online form to reserve your spots for the Campfire Night. If you wish to proceed with payment immediately after this step to guarantee your spots, please complete STEP 2 below.