Haunted Hamilton presents a rare overnight paranormal investigation at one of North America's MOST HAUNTED lunatic asylums! As seen on Ghost Adventures!

Trans-Allegheny
LUNATIC ASYLUM
Weston, West Virginia
Saturday, April 25, 2015 -
Sunday, April 26, 2015
This event is now
SOLD OUT!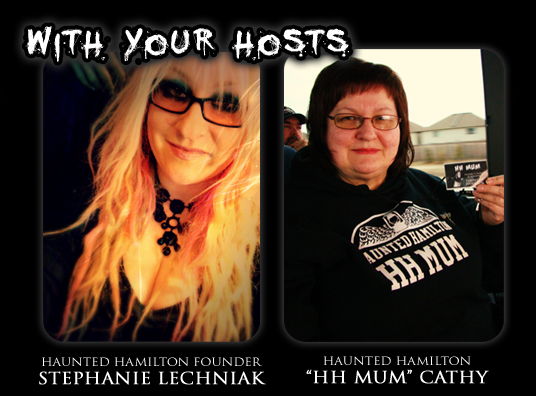 Join your hosts Stephanie Lechniak, Founder/Owner of Haunted Hamilton and Psychic Medium HH Mum Cathy as we hop aboard a luxury-chartered bus and travel to one of the MOST HAUNTED lunatic asylums in North America!
THE HISTORY...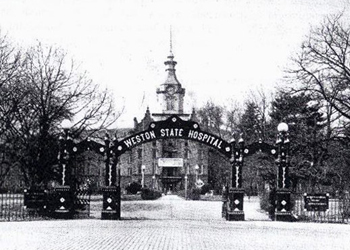 The Trans-Allegheny Lunatic Asylum, constructed between 1858 and 1881, is the largest hand-cut stone masonry building in North America, and is purportedly the second largest in the world, next to the Kremlin.
The original hospital, designed to house 250 souls, was open to patients in 1864, during the American Civil War, and reached its peak in the 1950's with 2,400 patients in overcrowded and generally poor conditions.  The medically untrained neurologist, Dr. Walter Freeman haphazardly performed ice-pick lobotomies and used electro-shock therapy with the idea that it would cure some of the patient's mental ailments.
The amount of deaths that took place within the walls of the lunatic asylum were documented well into the thousands. Many of the dead are buried in cemeteries located near the hospital. This could very well be why the facility was named one of the most haunted places in the United States!
EXPERIENCE THE HAUNTINGS!
People who come to the now abandoned facility find themselves greeted by a white haze, or mist, that floats about in random corners.  Many have had the feeling of being watched, but one security guard experienced much more. He felt this near the kitchen. Then from the raised hallway he saw the grayish figure of a woman staring out one of the kitchen windows. 
Staff who work at the building today have heard noises from empty corridors, including the sounds of rolling gurney's and screaming from the old shock rooms. A male spirit dressed like a doctor has been seen roaming the hallways, and many spirits dressed like patients are seen all over the facility.
The violent history of this place came to an end in the last 20 years leading up to its closure. During this time many bodies were found around the Asylum, victims of murder as patients were known to kill each other.
Want to read more? Click HERE for the history of TALA!
BRING YOUR INVESTIGATION TOOLS...
Haunted Hamilton has EXCLUSIVE ACCESS to the entire facility for the evening. Meaning, nobody else from the public will be booked in other than us!
Don't forget to bring your Paranormal Investigation Equipment if you have it (cameras, video cameras, EMF Meters, etc.)
Don't forget to bring some extra cash! We will have various items for sale including Haunted Hamilton Souvenirs, The GHOST METER PRO (EMF & Ghost Communication Tool), Pendulums & Hand Crafted Pendulum Boards and HH Mum's Gemstone Keychains & Amethyst Point Necklaces!
TRIP ITINERARY

* Itinerary subject to change

Saturday, April 25, 2015

7:00 a.m.

Depart Hamilton

7:45 a.m.

Vineland Pick-Up

10:00 a.m.

Pit Stop/Lunch Break at Angola N.Y. Service Plaza

2:00-2:30 p.m.

Evans City Cemetery, the opening Cemetery in George Romero's 1968 movie,

Night of the Living Dead"

5:00 p.m.

Dinner Buffet at Ryan's Grill Buffet & Bakery, Clarksburg, WV (*included in price!)

6:00 p.m.

Free time at Walmart Supercentre

7:15 p.m.

Arrive at Trans-Allegheny Lunatic Asylum

8:00 - 9:30 p.m.

Guided Tour of Trans-Allegheny Lunatic Asylum

9:30 p.m. - 4:00 a.m.

Overnight Paranormal Investigation
Sunday, April 26, 2015

4:00 a.m.

Depart Trans-Allegheny Lunatic Asylum

7:00 a.m.

Pit Stop

9:00 a.m.

Breakfast Stop at Angola Travel Plaza

12:30 p.m.

Drop-off in Vineland

1:30 p.m.

Arrive back in Hamilton
$250 per person (+ 13% HST)
Price includes:
Transportation via a fully chartered luxury bus with onboard washroom
Dinner at Ryan's Grill Buffet & Bakery (includes salad bar, desserts, pop, juice, coffee, tea, etc.)
Guided Tour of the Trans-Allegheny Lunatic Asylum in Weston, WV
7 Hours of your own Free Time for the Overnight Paranormal Investigation of the Asylum Investigation, you have roaming access around this abandoned location!
Tips, Techniques and Tool Demonstrations by Haunted Hamilton Founder Stephanie "Spooky" Lechniak and fellow HH Paranormal Investigators
HH Mum's Famous Goodie Bag with delicious treats for the ride there!
Water bottles available on the bus anytime
On-Board ghostly movies, games and trivia prizes!
Tickets are on a first-come, first-served basis!
The only way to guarantee your spots is to
purchase your tickets in advance below!
BUY YOUR TICKETS NOW!
OPTION 1: CREDIT CARD ONLINE
Click the Buy Now button below to purchase your tickets

All Tickets
$250 per person
This event is now
SOLD OUT!
I agree to the conditions and terms below:

..............................................
OPTION 2: Interac E-Transfer

E-mail us at info@haunted-hamilton.com to let us know if you wish to purchase your tickets via E-Transfer using your e-mail address if you do online banking (lesser fee's too!)