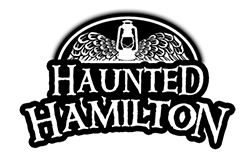 Haunted Hamilton presents a
HAUNTED
KINGSTON
BUS TRIP
Saturday, July 18, 2015
to Sunday, July 19, 2015
๑۩๑ ๑۩๑ ๑۩๑ ๑۩๑ ๑۩๑ ๑۩๑ ๑۩๑ ๑۩๑ ๑۩๑
DID YOU KNOW?
Haunted Hamilton was THE FIRST Group
to conduct an official overnight paranormal investigation
at Fort Henry back in 2008?
As seen on an episode of Ghost Hunters, this War of 1812-era Fort houses many unique stories and many wandering souls!
Join Haunted Hamilton Founder/Owner, Stephanie "Spooky Queen" Lechniak and Psychic Medium, "HH Mum" Cathy Lechniak as they re-visit one of Canada's MOST HAUNTED Forts!
Haunted Hamilton has ENTIRE access to this National Historic Site
for the entire evening of Saturday, July 18th.
THE HISTORY...
"Fort Henry, KINGSTON, Ont, was originally built during the WAR OF 1812 on Point Henry, beside Lake Ontario, to guard the outlet to the St Lawrence River and the Kingston Navy Yards. The strategic importance of the location increased after the completion of the RIDEAU CANAL, which provided a military supply route between Montréal, Bytown [Ottawa] and Kingston; the fortress was rebuilt between 1832 and 1837, the better to defend the end of the canal most vulnerable to American attack.
It was the principal fortress of UPPER CANADA (and also the largest), garrisoned by troops of the British army until 1870 and then by units of the Canadian Militia until 1891, when the fort was abandoned as a defensive structure.
In both world wars it housed PRISONERS OF WAR. In 1936 it was leased to the Ontario government, which had it restored as a historic park as part of a Great Depression works project. It was opened to the public in 1938 and again in 1948 after its second duty as an INTERNMENT camp.
Today, Fort Henry, a major attraction in a city that boasts many fine old buildings, is restored to its mid-1860 appearance, and houses refurnished buildings and a museum of military arms and equipment. During the summer the "Fort Henry Guard" demonstrates precision drill manoeuvres. Parks Canada manages Fort Henry as a national historic site (designated in 1923) and the Ontario government operates the site."
Walking around the grounds, visitors will be impressed by the sheer size and display of military strength and they will see a number of historically significant buildings, structures and fortifications including:
Stone walls over 10 metres (30 feet) high
and 2 metres (6 feet) thick
Advanced Battery (the highest point in the
entire Kingston area)
West Branch Ditch Tower
Dry ditch (40 feet wide and 30 feet deep)
Redoubt
Curtain Wall
Demi-bastions
Branch Tower East
West side well (the only part of the original fort still surviving)
And many, many more including a couple
of nearby Martello Towers.
THE HAUNTINGS...
Stories have been told for well over 100 years of the haunting of Fort Henry and the fort has even been featured on the popular show Ghost Hunters as they explored for paranormal activity.
Many visitors have reported seeing ghosts
and in particular those of:
John "Gunner" Smith

A rifleman whose weapon malfunctioned and exploded in his face, he fell from the forts wall into the dry ditch and screamed in agonizing pain as he died. May people have reported seeing an injured man lying in the ditch while others have reported hearing the sounds of people scurrying in the area.
Nils Von Schultz

A Finnish born nationalist that became involved in the Upper Canada Rebellion he was captured, tried and hung in 1838 after confessing he was full of remorse for mistakenly becoming involved in the insurrection. He is said to haunt Commanders Room #3 by moving objects around the room.
THE ITINERARY
Saturday, July 18, 2015

8:00 a.m.

Depart Hamilton (City Hall)

8:30 a.m.

Pick-Up in Oakville (403 Carpool Lot)

9:45 a.m.

Pick-Up in Whitby (401 Carpool Lot)

11:00 a.m.
- 12 noon

Free Time at Lunch Stop
(The Big Apple, Colborne)

1:30 p.m.

Arrive in Kingston

1:45 p.m.

Visit Skeleton Park (McBurney Park)

2:30 p.m.

Visit Canadian Penitentiary Museum (located inside the old Warden's Residence for the Kingston Penitentiary!)

4:15 - 5:15 p.m.

"A Creepy Kingston Tour"
with Haunted Hamilton Founder,
"Spooky" Stephanie Lechniak

5:15 - 7:30 p.m.

Free Time in historic Downtown Kingston
for Supper & Sightseeing

8:00 p.m.

Arrival and Check-In at Fort Henry

9:00 - 10:00 p.m.

Guided Tour of Fort Henry

10:00 p.m. - 6:00 a.m.

OVERNIGHT
Paranormal Investigation at Fort Henry
(You are also assigned your own period-style bunk for the night, so you can take a nap or two throughout the night! )
Sunday, July 19, 2015

6:00 a.m.

Depart Fort Henry / Kingston

6:30 a.m.

Free Time for Breakfast at Rest Stop

9:45 a.m.

Drop-off in Whitby

11:00 a.m.

Drop-off in Oakville

11:30 a.m.

Arrive back in Hamilton
* Itinerary subject to change
WHAT TO BRING
Comfy Clothing Dress in layers! Although this is in the summer, the evening could get chilly.
Sleeping Bag/Small Blanket & Pillow: For your evening in the barracks. You will be assigned your own bunk for the entire night where you can keep your belongings at.
Good, comfy shoes! You'll be on your feet all night. Heels and open sandals are not recommended! The location contains hazards including, but not limited to, narrow corridors, steep stairs, dark tunnels, winding staircases and uneven surfaces.
Carry-on bag/back-pack: is allowed on the bus and can be placed in the overhead compartments.
Small Flashlight: All lights will be turned off in the fort for the night. Bring a flashlight but make sure it doesn't disturb others investigating.

ExtraSpending Money for some cool things we always have for sale on our Haunted Bus Trips (anything from handmade jewellery, crystal items, novelties, books, and more!)
Camera (you won't want to forget this experience, and who knows, maybe you'll capture something on film!)
Camcorder (same as above...)
Extra batteries! we can't tell you how often and quickly these drain at haunted locations! Bring lots!
Paranormal Investigation Tools
we will have some with us for demonstration, and some for sale on the bus too!
Prizes!Don't forget to bring some extra $$ for our awesome prizes!
We bring the Fun!! Our Haunted Bus Trips are famous for including one of HH Mum's Goodie Bags! You can also expect Trivia and other fun surprises!
Tickets are limited and all of our Haunted Bus Trips have completely sold out in the past.
We recommend you purchase
your tickets as soon as possible!
BUY YOUR TICKETS NOW!
CREDIT CARD ONLINE
Click the Pay Now button below to purchase your tickets

All Tickets
$215 per person