From the Roaring Twenties to the Big Band 40's,
Prohibition was hot, Bootlegging was King...

Once you had the password, you were invited
to the BEST PARTY in town...


presents...
THE MOBSTER BALL
Saturday, February 28, 2015
8pm - 2am // Tickets $30 // 19+
The Spice Factory
The location of an authentic Speakeasy from Hamilton's history, the Spice Factory is also famously HAUNTED by several ghosts!
121 Hughson Street
Hamilton, Ontario
Click HERE for Google Map


2 Floors of Musical Performances,
Live Entertainment, Mind Reading & Illusions,
Burlesque, Souvenirs & Merch Table, Dancing & more!


a secret password will be e-mailed to you after your
purchase. you will require this to get past the
mobster thug at the door!
doors open at 8:00 pm
(to those with the password!)
performances start at 9:00 pm

dance away the evening or enjoy
the sultry lounge until 2:00 am

2 cash bars // with special themed cocktails
With Your Hostess...
"Spooky" Stephanie Lechniak
www.hauntedhamilton.com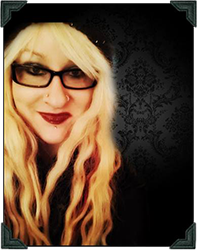 Stephanie Lechniak is Founder & Owner of Haunted Hamilton, a strangely unique business that has operated Haunted Tours and Bus Trips to spooky locations all over Canada and the US for the past 15 years. Stephanie has devoted her career to educating, enthralling and entertaining guests young and old in all aspects of the paranormal. An award-winning monthly columnist (urbanicity magazine), an avid history enthusiast, Paranormal Investigator, TV personality, Radio Show Host, artist, and most of all, just a girl devoted to exploring the unknown in search of that missing piece... why are we all here and where do we go after we die? Stephanie is also Host and Community Producer of "Haunted Hamilton's Ghost Stories" on Cable 14 and co-host & producer of "The Haunted Hamilton Radio Show" on 93.3 FM CFMU. Stephanie has appeared on OLN's "Creepy Canada" and YTV's "Ghost Trackers", and many other paranormal and historical TV Shows, both locally and internationally. A little bit of spirituality mixed with the perfect blend of technical tools of the trade, and you have one ghost hunting diva who's ready to get her ghost on! Stay Spooky everyone!
With Special Guest MC...
Mysterion the Mind Reader
www.mysterionthemindreader.com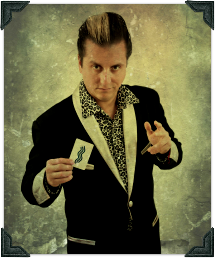 Canada's foremost mentalist with a PhD in E.S.P. He will twist your thoughts and always knows what you're thinking. Since watching the Amazing Kreskin on television as a child, Mysterion has dedicated his time to the study of the unknown! He found the real answers to many paranormal mysteries (lies) and now demonstrates them live for entertainment, never to claim an ability beyond his own 5 senses. Know that what you are seeing may not be real, but try and figure it out. Mysterion has one main mission: To share his love of making you wonder.
Featuring Special Guests...
Ginger St. James
& SnowHeel Slim
www.gingerstjames.com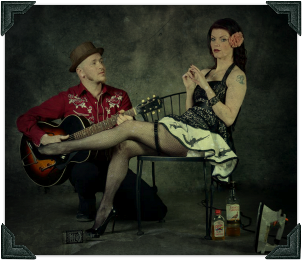 With her sultry and powerful voice, her sassy and commanding stage presence, and a repertoire that blends country, rock and blues, Ginger St. James packs a lot of entertainment into her petite frame. Following the tradition of country songbirds like Loretta Lynn and Wanda Jackson, Ginger writes music from real experience. A born entertainer, she captivates audiences with her tongue-in-cheek songs that are as entertaining lyrically as they are visually and musically. She released her first EP in 2010, followed by the EP 'Tease' (2012). She is currently touring in support of her debut full-length album 'Diesel & Peas.'
The Vaudevillian
www.facebook.com/thevaudevillianmusic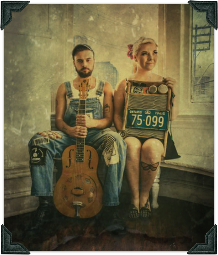 1920's ragtime and string band blues. Spit, Scream, Stomp. Washboard, guitar and kazoos. Brendan J Stephens and Willow Walker are 1920's blues singers in the flesh. Hitchhiking between raucous house shows, rowdy bars and busking everywhere in between, they have crafted a way of singing both their own material and songs near one hundred years old in a way entirely their own.
Frankie & Jimmy
http://frankieandjimmy.bandcamp.com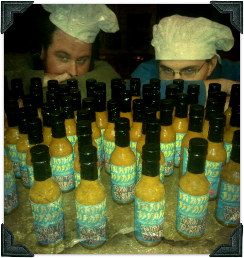 Sliding Delta Demento Blues. The Poor Man's Blues Brothers will scream their way into your hearts, minds and pocketbooks with their old time blues standards. Fuzzed out frantic songs about freight trains and murder played by reprobate party animals will tantalize and tease your senses. With a set as spicy as their gourmet hot sauce they play it dirty. They play it pretty. They play it spooky… and damn are they nice to look at. A feast for your eyes, ears and mouth. Buy their 12" of hot wax for hours of soul soothing growls and slide licks.
Bonnie Hamilton
www.facebook.com/pages/Bonnie-Hamilton/156920514366995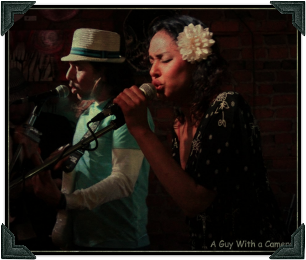 The beautiful and superbly talented Bonnie Hamilton will be performing some of Billie Holiday and other famous and notable songs of the era in the Haunted Hamilton Speakeasy Lounge on the Main Floor of the Spice Factory throughout the evening.
Also...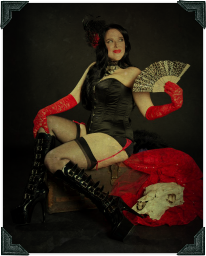 ... a sinful burlesque performance by Trudy Dare!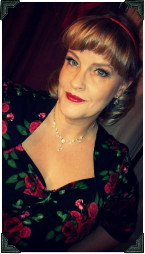 ... and Spooky Ghost Stories from this actual HAUNTED building!
There are several known spirits who have died in the building, and you'll hear their stories. You'll also learn about Hamilton's famous mob history including the King of Bootleggers himself, Rocco Perri (Canada's Al Capone!). You'll also hear about the famous Torso Murderess, Evelyn Dick! Stories dramatically told by Sue Hilton!
... and a special musical tribute to Stephanie's favourite... The Andrews Sisters!