Thank for visiting the Official Haunted Hamilton Website!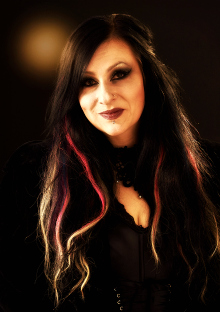 STEPHANIE "Spooky Steph" LECHNIAK is Founder & Owner of Haunted Hamilton, a strangely unique business that has operated Haunted Tours and Bus Trips to spooky locations all over Canada and the US for the past 17 years. Stephanie has devoted her career to educating, enthralling and entertaining guests young and old in all aspects of the paranormal.
An Award-Winning Columnist (urbanicity magazine), an avid history enthusiast, Paranormal Investigator, TV personality, Radio Show Host, Event Planner, artist, and most of all, "Spooky Steph" (as she's known to her fans) is just a girl devoted to exploring the unknown in search of that missing piece... why are we all here and where do we go after we die?
Stephanie is also Host and Community Producer of "Haunted Hamilton's Ghost Stories" on Cable 14 and she hosts "Haunted Hamilton's HALLOWEEN Variety Show Special with Spooky Steph" on Cable 14 all throughout the Fall season! For several years, Stephanie was also Host & In-Studio Producer of "The Haunted Hamilton Radio Show" on 93.3 FM CFMU, broadcasting Live from McMaster University every Wednesday night.
Stephanie was also Historical & Location Consultant as well as appeared on OLN's "Creepy Canada" in 2006 and YTV's "Ghost Trackers" in 2005/2006, as well as many other paranormal and historical TV Shows, both locally and internationally.
A little bit of spirituality mixed with the perfect blend of technical tools of the trade, and you have one ghost hunting diva who's ready to get her ghost on!
~ Stephanie Lechniak, Founder/Owner of Haunted-Hamilton since 1999
.............................................................................................................................................

★★★ Spooky Steph from Haunted Hamilton on City TV's Breakast Television promoting Rue Morgue Dark Carnival Expo!! [July 13, 2016 | CityTV]


HAUNTED HAMILTON...
I was honoured and thrilled to have been asked by Author, Mark Leslie to not only help with his research for his 2012 book, Haunted Hamilton, but to also write the Foreword.
This fantastic book is a journey into the stories of some of Hamilton's most haunted locations and many of the photos in the collection were taken by yours truly!
Here is an excerpt from my Foreword, as it appears in HAUNTED HAMILTON, by Author Mark Leslie:
This is where our story begins, standing at the precipice of this enormous, empty edifice known as Bellevue. The sun was peering through the cracks in the plywood that blocked the windows. It was almost beckoning and welcoming us to enter as we both felt a strong sense of purpose just being there.

With my dad's trusted 35mm camera around my neck and several rolls of film on hand, we ventured into the Bellevue mansion, unbeknownst to us that this would be the start of something big. The photos I snapped along with the historical write-up that accompanied them would quickly become the very first article on our newly designed website we called, "Haunted Hamilton".

Strangely enough, here I am countless years later, looking for a notepad to write my thoughts down for this foreword when I find an old, dusty notebook in my cabinet. I start to flip through the pages and realize it is our very first notebook where we penned our dreams, hopes, game plans and ideas for Haunted Hamilton. The interesting part? Not much has changed. Even when we were kids, we were still passionate about the wondrous history of our City. It was over a decade ago when we wrote about the need for restoring, preserving and educating Hamiltonians (and tourists alike) about this unique City of ours… the "Ambitious City" as it was often referred to over a hundred years ago.

This old notebook couldn't have been found at a more perfect time. Reading through the pages reminded me of just how far we have come and in many ways, how we still feel so compelled to share Hamilton's unique stories and tales with everyone.

From the Dark Lady who famously haunts the old Customs House on Stuart Street, to the legend of William Black, the lonely coachman who's spirit still wanders the woods at the Hermitage Ruins in Ancaster. Hamilton is ALIVE with ghosts from the past. A decade's worth of research isn't enough. There is still a world of stories, legends and folklore that wait to be told. This book is your ultimate guide to uncover all the unique and historically haunted treasures in our City. Read through it, learn, explore and get up close and personal with the ghosts of "Haunted Hamilton."

~ Stephanie Lechniak
www.HauntedHamilton.com
www.Facebook.com/HauntedHamilton
www.Instagram.com/HauntedHamilton