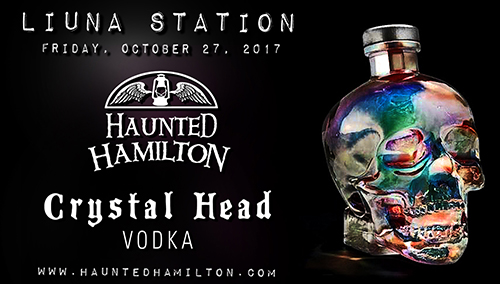 Crystal Head Vodka presents...
Haunted Hamilton's
16th Annual
HALLOWEEN COSTUME BALL
Friday, October 27, 2017
8:00 PM - 2:00 AM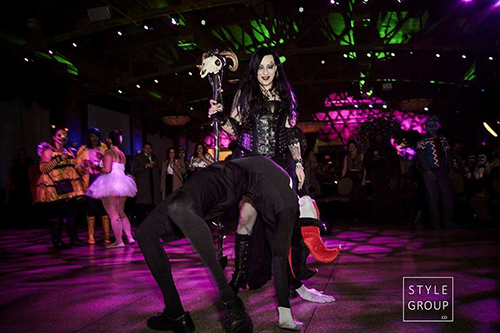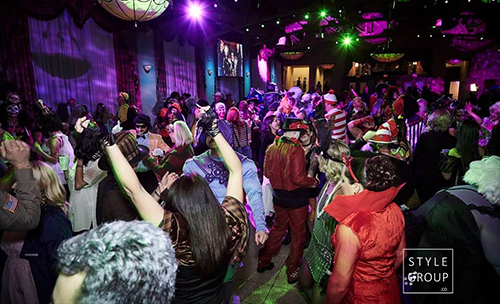 In the Grand Ballroom at
LIUNA STATION
360 James St N, Hamilton, ON L8L 1H5
Click HERE for Google Map

"The BEST Halloween Bash in Hamilton!"
----------------------------------------------

Crystal Head Original
The finest vodka is untouched. Naturally smooth. The highest quality peaches and cream corn is distilled four times into a neutral grain spirit and blended with pristine water from Newfoundland, Canada. The liquid is filtered seven times, of which three are through layers of semi-precious crystal known as Herkimer diamonds. The Crystal Head bottle was designed with a pure spirit in mind. Dan Aykroyd and John Alexander wanted to craft a vessel worthy of onCrystal Head Aurora e of the world's purest vodkas. A symbol of life, reflecting power and enlightenment, to hold their award – winning spirit of super natural purity. Crystal Head contains no additives, no glycerol, citrus oils or sugars. Nothing is added to enhance or mask the taste.
Crystal Head Aurora
Aurora Borealis is the most vivid aerial phenomenon. Our Crystal Head Aurora bottle was created in celebration of this natural light display, with its beauty and mysterious visual properties. The bottle, with its delicate and iridescent metallized finish, is out tribute to this natural wonder of the world. It truly is a work of art – no two bottles are alike. Aurora is the next generation in the Crystal Head family. Instead of exploring different flavours, Aurora was crafted using high quality English wheat making it a drier, bolder and spicier vodka while staying true to the Crystal Head character.
----------------------------------------------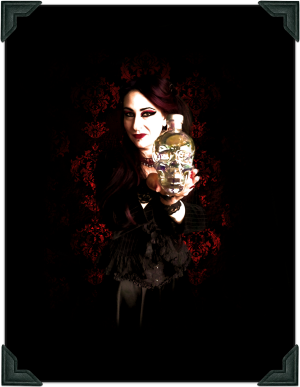 With Your Hostess,
"SPOOKY STEPH"
Stephanie Lechniak
Founder & Owner of Haunted Hamilton since 1999!
"SPOOKY STEPH" is Founder & Owner of Haunted Hamilton, a strangely unique business that has operated Haunted Tours and Bus Trips to spooky locations all over Canada and the US for almost 20 years! Stephanie has devoted her career (having started Haunted Hamilton when she was only 19!) to educating, enthralling and entertaining guests young and old in all aspects of the paranormal.
An award-winning monthly columnist (urbanicity Magazine), TV & Radio Show Host/Personality, Event Hostess, Public Speaker, Lecturer, an avid history enthusiast, Paranormal Investigator, artist, and most of all, just a girl devoted to exploring the unknown in search of that missing piece... why are we all here and where do we go after we die? Stephanie is Host and Community Producer of "Haunted Hamilton's Ghost Stories" on Cable 14 and also Hosted in "The Haunted Hamilton HALLOWEEN Variety Show Special". Stephanie was also co-host and producer of "The Haunted Hamilton Radio Show" on 93.3 FM CFMU. Stephanie has appeared on OLN's "Creepy Canada" and YTV's "Ghost Trackers", on CityTV, CBC, CHCH, GlobalTV, The Travel Channel, Space Channel, TLC, W Network, Slice, ScyFy Channel and many other paranormal and historical TV Shows locally and internationally.
A little bit of spirituality mixed with the perfect blend of technical tools of the trade, and you have one ghost hunting diva who's ready to get her ghost on! Stay Spooky everyone!
----------------------------------------------

With Very Special Guest MC,
MITCH MARKOWITZ
Hamilton's Hometown Hero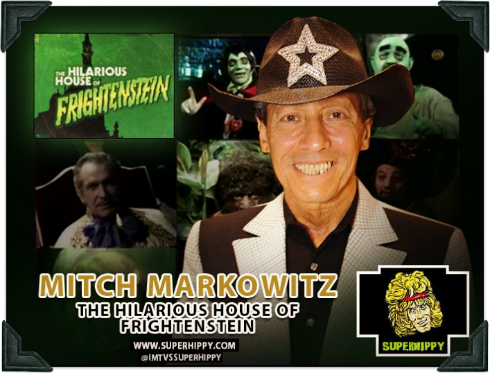 Co-Producer & Co-Star of one of the most famous spooky children's show in Canadian history along with the famed Vincent Price, MITCH MARKOWITZ is famously known as "Super Hippy" from The Hilarious House of Frightenstein. He also starred in Rodrigo Gudino's, The Last Will and Testament of Rosalind Leigh (2012) alongside Aaron Poole and Academy Award winner Vanessa Redgrave and most recently, Human Cattle by Rabid Dog Films.
www.twitter.com/IMTVSSUPERHIPPY
----------------------------------------------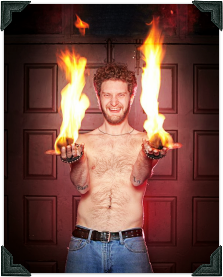 With a Spectacular Performance
Outside the Historic Backdrop of Liuna Station by
HOT CARL
FIRE ARTIST
----------------------------------------------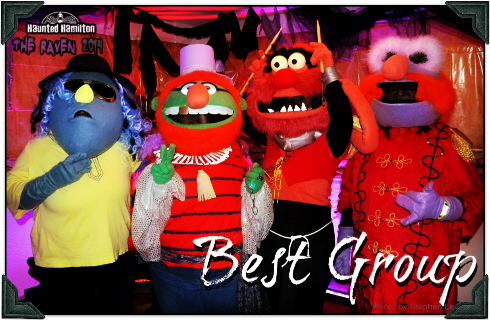 Over $5,000 worth of
COSTUME PRIZES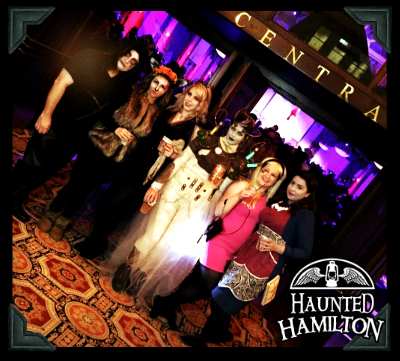 The event is a Costume Ball. We encourage people to come dressed up in costume as this is the theme of the evening and there are amazing prizes for the best costumes! Come dressed to impress!
Prize Categories are awarded as follows:
Best Overall Costume
Best Overall Couple
Best Group Theme (3 or more)
Most Unique/Bizarre Costume
Scariest Costume
Sexiest Costume

... and MANY Honourable Mention prizes too!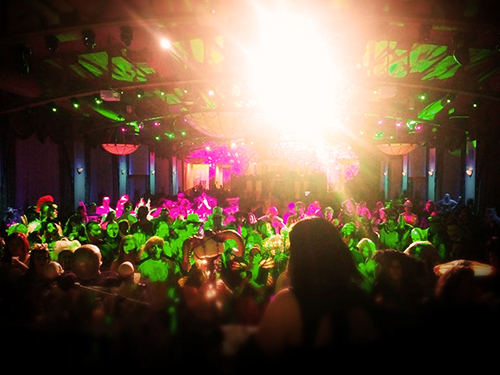 ----------------------------------------------

8:00 - 9:00 pm

ARRIVAL & RECEPTION

9:00 pm
Welcome by your Hostess, Spooky Steph & Special Guest MC, Mitch Markowitz
9:30pm -
12 Midnight
TIME TO DANCE!


with a HUGE 20 foot Video Dance Screen and State of the Art Lighting!

Cold Buffet (*included in price!) served at 9:30 pm

With 3 Cash Bars available during the evening

12 Midnight
Costume Prizes Awarded!
12:45 - 2:00 am
Dance the rest of the evening away!
----------------------------------------------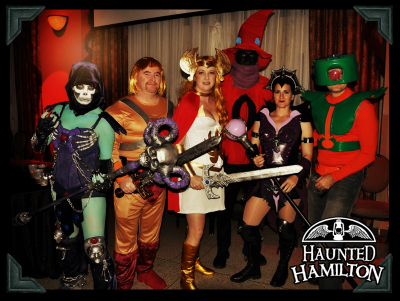 ----------------------------------------------
With DJ, Lighting & Effects by our friends at:


----------------------------------------------

AVOID DISAPPOINTMENT! Tickets are on a first-come, first-served basis and WE ALWAYS SELL OUT! The only way to guarantee your tickets is to purchase them in advance below.
** Please NOTE: This event is not for guests under 18
GET YOUR TICKETS NOW!
Here's how to get your tickets:

Continue with your payment by clicking the "Buy Now"
button below (after filling out the reservation form).
** Your PayPal Receipt SERVES AS YOUR TICKET **
You can either bring a print-out or a digital copy on your cell phone, but please make sure it clearly shows the Name of ALL Guests attending on the paper, the number of tickets purchased and the Transaction ID.
** Includes an amazing evening Cold Buffet by Liuna Station, DJ Dance with 6 Video Screens, State-of-the-Art Lighting, Live Entertainment, 3 Cash Bars, $5,000 worth of Costume Prizes, Treats, Candy, Photo Booth & more!!